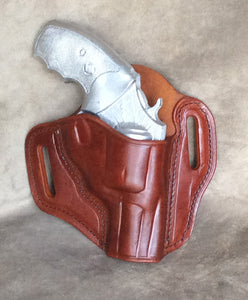 Ruger SP101 Two Slot Pancake (TSP) Leather Holster
Regular price $89.99 Sale
PREMIUM GRADE STEER HIDE TANNED IN THE USA
DOUBLE STITCHED FOR ADDED STRENGTH AND DURABILITY
FORWARD CANT
HAND MOLDED TO FRONT OF GUN
HIGH RISE BACK
OPEN OR CONCEALED CARRY
ALSO FITS GLOCK 22 AND GLOCK 31 MODELS




This style of holster is known as a "two slot pancake (TSP)" holster. A slot on either side allows the weapon to be pulled tight to the body and allows the flat, back side to conform to the curve of the hip. Holster is constructed from premium grade, noncorrosive leather with partial double stitching for added strength and durability. Skilled hand molding custom fits the holster to the shape of the gun for optimal weapon retention. A forward cant allows for a more natural draw. The high rise back helps protect your body from the frame of the gun. This classic design is fit for open or concealed carry. Fits belts up to 1 3/4" width. Available in right or left hand draw;black or brown. Exotics also available.